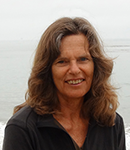 Elizabeth Roscoe, BA, CMT, LMT
I am a certified Movement Therapist and licensed Massage Therapist with a B.A. in Sociology. I began my study of health care in 1975 at Palmer College of Chiropractic where I completed 1050 hours of study in the basic sciences, philosophy of healing and ethics. I have studied Applied Kinesiology with Dr. Gary Helgeson, D.C. and Polarity Therapy with Dr. Ed Jarvis, D.C., a student of Dr. Randolph Stone.
I studied midwifery in 1977-78 after the birth of my daughter. During that time I attended 25 births as a home birth doula and taught home birth preparation classes. Both of my children were born at home. I have also assisted in planned hospital births. My mentor and guide was Maxine MacMillan, certified Nurse Midwife in New Zealand and Professor of Obstetrics and Gynecology and Embryology at Palmer College of Chiropractic. I continued to work as a doula after relocating to Paonia, Colorado in the fall of 1978.
I began my study of the Hakomi Method in 1979 and had the great privilege of studying directly with founder Ron Kurtz for many years. as well as the Trauma Recovery segment of Hakomi Integrative Somatics, now called Sensorimotor Psychotherapy, taught by Pat Ogden.
1988: Deep Muscle Massage certification at Heartwood Institute. In 1989 I studied T'ai Chi and Movement and Massage Therapy with Jim Spira at the Institute for Educational Therapy in Berkeley, California, where I became certified as a Movement Therapist. I studied Craniosacral therapy with Dr. Norm Lewark, D.D.S. in 1991. I have studied T'ai Chi and Qigong with Bruce Kumar Frantzis of Marin County, California.
I teach the Wu short form and related Qigong movements to clients and the general public.
2005: I taught biomechanics, kinesiology, ethics, communication, pregnancy massage, and professional massage at the Delta-Montrose Technical College in Colorado. I teach couples massage and offer classes in mindfulness, meditation, and deep relaxation techniques.
I began teaching and practicing in Colorado in 1979. From 2002-11 I had the privilege of working with Dr. Kathy Brittain, DC., in Montrose, Co. I moved to Santa Barbara in January, 2012.
2014: Doula certification and Childbirth Preparation mentor using the Birthing From Within model.
2014: Lactation Specialist certification
2015: Nurturing Parenting certification
2016: PREP Healthy Relationships certification
My practice is defined by providing an educational experience to increase client awareness of internal states which may be limiting physical well-being and full authentic living. I see myself as an ally who assists clients to read their own internal map and to identify the inner and outer resources needed as they journey through a challenging life passage. Some observed effects of the work have been deep rest; an expanded sense of personal presence and connection to others; relief from unexplained tension and pain; and a renewed sense of trust, safety, love and enthusiasm for life.
Birthing is an incredible life passage with many challenges to be met along the way. Not only am I a keeper at the gateway where a new soul enters this world. I also witness and support the emergence of the mother and father into the parents that they are becoming. I apply all the skills that I have to offer in my services as a Doula, Childbirth Mentor, and Parent Educator.
Relationships, birth, and parenting are among the most rewarding and challenging roles that we take on in our lives. The work of Full Circle Bodywork and Mentoring aligns with your best intentions as an individual, partner, and parent by providing mentoring in the skills shown by current brain research to support your self-awareness, ease, and presence as the foundation for satisfying relationships in all aspects of your life. Being gentle and kind to yourself is the cornerstone of being gentle, kind and effective with others. When you choose this form of self-care, know that each session is based on your stated needs and desires. This includes learning new mindfulness and relaxation skills which will serve you well on your journey.
California Massage Therapy Certification #59311
Colorado License #MT 1407